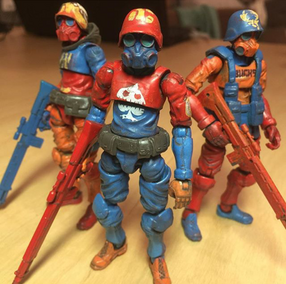 Weird Agurts Infantry
These 3 individual troops were first seen on Kit Lau's Instagram on 22/11/15, as the week progressed fans received extra updates of more detailed versions. The 3 soldiers are all painted differently in bright colours of red, blue, orange and later yellow.
Kit has commented on these creations:
"I am so tired......so, I have to do something weird as a break"
Based on Kit's revealation these figures are likely one-off creations for his own collection and unlikely to be released as exclusives or generally.
JM