Uncle Kunio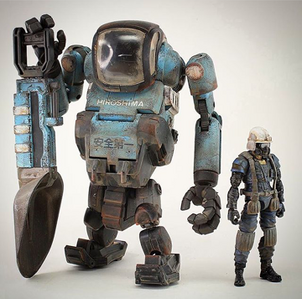 Uncle Kunio is an exclusive release figure that was included in the Uncle Kunio/Hiroshima Worker Laurel set. His background is unknown but it could be presumed since Laurel cores are sold internationally and his vehicle posesses Chinese writing that he has been deployed or has volunteered to travel to Europe to help with construction duties in the wartorn Agurts region.
The figure body is a straight blue repaint of the Tim figure, his head is a new heavy duty construction style gas mask with grey hair and a removable constriction style white safety helmet. 
JM
Ad blocker interference detected!
Wikia is a free-to-use site that makes money from advertising. We have a modified experience for viewers using ad blockers

Wikia is not accessible if you've made further modifications. Remove the custom ad blocker rule(s) and the page will load as expected.