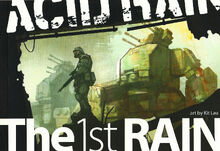 Acid Rain The 1st Rain is an art/concept booklet for Acid Rain World by Kit Lau.
Originally printed with a $10.99 price, The 1st Rain booklet was given out at exhibition events and to retailers carrying the Acid Rain World toy line. Most customers recieved the booklet with purchase of the Stronghold.
The 1st Rain booklet included art and story from the Acid Rain World blog including concept and prototype pictures of the toys, including the "Zamai" General Soldier which would eventually become the Agurts Infantry. It is unknown at this time if the Zamaii General Soldier was meant to be a separate figure from the Agurts Infantry.
JM