Soil Ghosts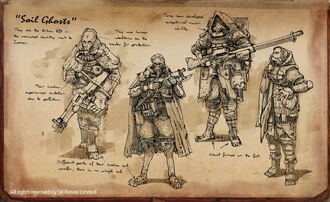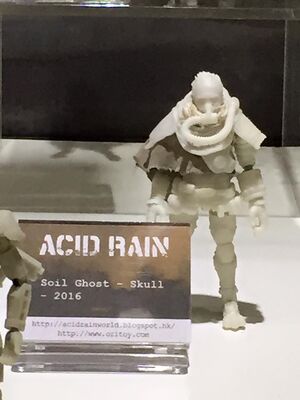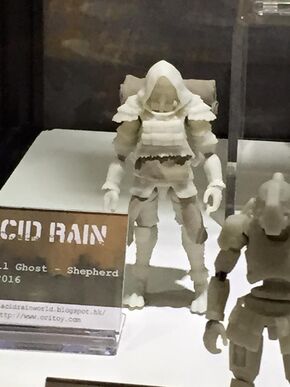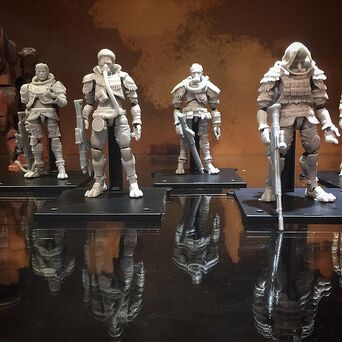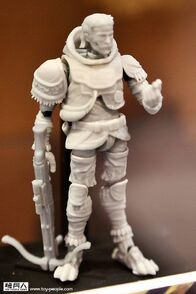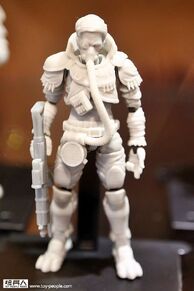 Soil Ghosts are nomadic tribes who inhabit the Desert between the regions of Agurts and Gafia. They are both feared and hated by the people of Agurts because of their strange culture and heritage. The desert is now a forgotten "country" ravaged by extreme pollution and radiation resulting in severe lack of resources. This contamination has caused strange and irregular changes to the biological make up of the Soil Ghosts. Many have formed tough crust on their feet, perhaps as a result of accelerated evolution to survive in a tough environment. Other changes include strange swelling of numerous body parts and rumours have spread that many of these nomads have developed exceptional vision abilities.
Soil Ghosts are believed to have strange customs including worshipping "Phantoms" who reside in the ever shifting sands, they eat human flesh and wear the skulls/bones of their deceased family members/ancestors for protection in battle.
Due to lack of resources and no chance of trade or amicable relations with neighbouring "countries" the Soil Ghosts have little choice but to carry out raids and small invasions to border towns, mainly concentrating on Zamaii. There is no generic appearance to a Soil ghost and they appear to have no uniform or ranks so each is an individual. Little armour is available (other than their protective spirits) and they use weaponry crafted out of salvaged and ruined scrap. It is unknown whether these tribal people have any light vehicles or mobile armour.
"I was transferred to the northeast border of the desert area of my country, Zamaii, to stop the robbery conducted by those shadowy tribes, "Soil Ghosts"
There is evidence from Bob's notebook that he had first hand experience of the Soil Ghosts and contrary to belief they are not blood thirsty savages. He believed that their simple behaviour for self protection was described as evil and they used the skulls of their loved ones as masks because they believe these charms carry blessings and protection. It is likely the Soil ghosts are victims of Agurts government propaganda to promote control and loyalty.
The 88th Agurts Infantry squad who supervise the agricultural trade route between Agurts and Gafia are often attacked by Soil Ghosts causing a large number of casualties. It is unclear whether these conflicts are encouraged by the 88th, the Soil Ghosts feel threatened by what they see as an invasion into their territory taking action or if militant Soil Ghosts tribes are acting in desperation for resources.
When Damien and his Zamaii squad are secretly sent to destroy a Soil Ghost military camp they slaughter everyone there and then discover that they have sent by their superiors to kill civilians. A Soil Ghost militant force returns to the scene and immediately attacks Damien's squad. Due to the extensive knowledge of the land, experience in Desert training as well as being enraged by the death of their families, the Soil Ghosts almost completely obliterate the confused "invading soldiers".
Acid Rain creator Kit Lau stated in the 4th quarter 2014 that he had began work on creating Soil Ghost figures, no further updates have been released but releases are expected in 2015.
The first glimpse of a prototype Soil Ghost figure was shown on Acid Rain World creator Kit Lau's Instagram on 26/05/15 although it is unclear whether this is a digital display prototype or an actual physical mould. This Soil Ghost represents the design of the character shown on the far left of the drawing from Bob's notebook. 2 unpainted prototypes of Soil Ghosts were displayed at SDCC 2015, the first is named Skull (first left on Bob's sketch) and the second named Shepherd (third on Bob's sketch), Soil Ghost figures are expected to be released in Fall 2016.
On 24/08/15 Kit added the additional information about the Soil Ghosts through an Instagram update:
"Being described as devils by Agurts government's propaganda, the Soil Ghosts are living in the desert area where resources were exhausted by its former state. They build tents on the deserted buildings. They rob against the traders who export Argurts' agricultural produce to Omanga but they seldom take the lives of the traders."
2 New Soil Ghost prototypes were revealed late in 2015 in numerous Asian cons, they complete the 4 illustrated in the picture from Bob's diary, they are named Chief (last on sketch) and Eyed General (second).