Medical Bike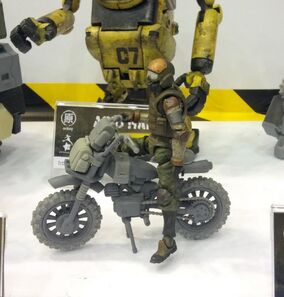 The Medical Bike is a small fast support vehicle used by the armies of Agurts in the Acid Rain World. Although little is currently known about this bike we can assume that it is piloted by a battlefield medic who requires fast transportation to injured personnel during and after battles. 
There are several packs attached to the bike containing field supplies for emergency treatment and surgery.
The medical bike offers no protection for the pilot and no weapons so speed and fast decisions are required for success. Medical Bike pilots rely on other Agurts units drawing fire away from them and enemies having the decency not to shoot medics (this not always being the case).
This vehicle was first photographed in unpainted prototype stage at Hong Kong Toy Fair 2014. It was piloted by a Sol Commander. No other information regarding this vehicle has yet been released.
JM