Worker Laurel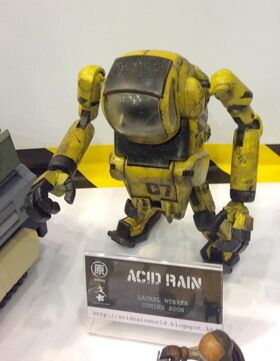 Worker Laurels are an industrial mech used by the forces of Agurts in the Acid Rain World. These may be one of the few vehicles which are not used in warfare (the other being the WF04-a Beaver) having no weapons.
Workers do possess thick armour and completely encase their pilot providing considerable protection from radiation, toxic contamination and industrial accidents.
Most Worker Laurels operate far from the battlefield, they have 2 articulated humanoid arms used for numerous duties such as hauling cargo, loading other vehicles with heavy equipment, clearing ruins/large rubble, building structures and large scale vehicles, repair, crowd control and entering contaminated areas.

A painted prototype of the Worker Laurel was first photographed in the 3rd quarter 2014 and are expected for a release in 2015. This mech is painted in industrial yellow and is completed with yellow and black hazard markings. There have been rumours that this Laurel may be included in a set, no information on the pilot figure has been revealed.
JM