This version of the Laurel is described as a "tester" and was first shown on Acid Rain World creator Kit Lau's Instagram on 27/03/15. The vehicle is a standard Laurel with a new style of paintwork in the style of the flag of Japan. Mainly white with red circle markings and a "Japan Defence" inscription on the head and torso. The pilot is a standard Laurel pilot with a red vizor and white attire.
After speculation this was an exclusive Kit stated that this version of the Laurel was not an exclusive and he had a plan involving this vehicle being used for a non-military use.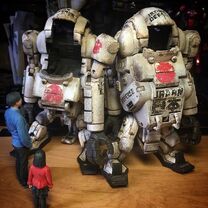 Late in 2015 a much different version of this vehicle appeared at Asian Toy cons, this new version has been described as a potential future release, whether limited, exclusive or general remains unknown, the new version sports a new orange paintjob and a construction style drill device suggesting this is a civilian vehicle.
JM