Evolution Of The Agurts War Machine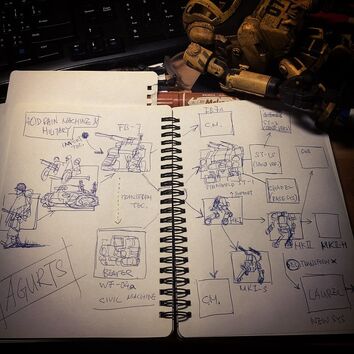 This section is based on information from Acid Rain World creator Kit Lau's notes and ideas shared through Instagram on 07/06/15.
The picture shows how real world vehicles used by the basic Agurts military were pressed into fast evolution to overcome foreign threats from factions such as Omangans and Soil Ghosts.
Stage 1 is a basic infantryman
Stage 2 shows real world armoured vehicles such as a tank and a mobile artillery cannon
Stage 3 introduces transformable vehicles such as the civic machine WF-04a Beaver and evolution such as the artillery cannon and tank to the FB-7 Flakbike
Stage 4 is the full introduction of transformable armoured vehicles by the Agurts military
Stage 5 illustrates how the FB-7 Flakbike evolves into the unseen FB-7a, the WF-04a Beaver evolves to become the ST-1 Stronghold and also the introduction of  tranformable vehicles such as the MK I Speeder (Raptor) which in itself leads to a MK I's heavier armoured MK I-s Raptor and  an unknown vehicle named Civil Machine.
Stage 6 suggests evolution of the ST-1 Stronghold into the Chapel Base System and previously unseen vehicles, the ST-1s and the ST-2. At this point the MK I Raptor was evolved into the MK II Speeder
Stage 7 is the final stage of evolution provided from Kit's notes, this illustrates how the MK II Speeder evolved into the unseen MK II-H and Sub, also there is a decline in transformable vehicle development as the MK II Speeder was evolved into the non-transformable Laurel (which is described as a new system)
JM
Ad blocker interference detected!
Wikia is a free-to-use site that makes money from advertising. We have a modified experience for viewers using ad blockers

Wikia is not accessible if you've made further modifications. Remove the custom ad blocker rule(s) and the page will load as expected.